A smartwatch is no longer a device to tell the time alone, it's a fitness watch and must have a gadget that not only keeps you connected to the world but also monitors your health system and protects you from several ailments which may affect your health easily.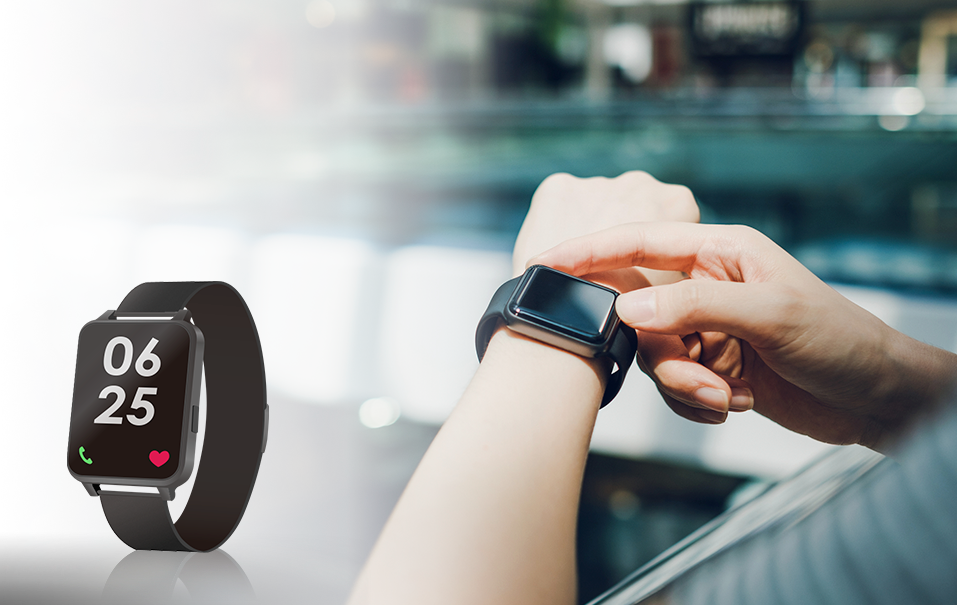 Today is the era of a smartphone which comes with lots of features and apps and due to that people do not understand the need of having a smartwatch which is over and above just being a watch. We should not forget that due to the advanced technology and smartphone we are becoming addicted to them slowly and it is also affecting your health a lot which we often fail to notice.
Most of the people are fitness freaks nowadays but they fail to keep a track of their health and fitness. But don't worry the smartwatch a device which keeps the track of your entire body and can help a lot to keep you fit as well as makes your daily job easier as well. Lets check the advantage of smartwatches.
Fashionable
Besides doing many smart things, smartwatches are fashionable pieces that can enhance the wearer's appearance, adding a touch of class and sophistication. They're often a great complement to more traditional accessories or jewelry. Most smartwatches also afford users the freedom of changing the bands to fit their outfits.
Finding a phone, key or device is even easier
Usually, losing a phone or keys is an extremely frustrating experience. It always seems to happen before some important occasion that we just can't be late for!
Thankfully a smartwatch can make our life easier in this kind of situation. Most of them have a "Find Phone" feature. You can connect your phone or any device with it and you will be able to ring it through your watch whenever you wish. Lost your phone? Just press a few buttons on your watch to locate it in seconds.
Fitness Tracker
Smartwatches have fitness tracking as a core feature.
What exactly can a smartwatch do? It can count steps, distance, calories, heart rate, pulse rate, sleep and some even go beyond this to calculate other important metrics you might need.
Reply to messages & receive calls instantly
If you have a smart watch on your wrist, you no longer need to bring your phone out of your pocket. You can receive calls or reply to messages on the go. This is especially useful if you are exercising or in a scenario where carrying a phone is just too awkward.
See your social media notifications
Who doesn't want to see Facebook, Twitter, WhatsApp, SnapChat or other social notifications on his wrist? Well, me actually and this is always something I turn off, but for others, this is a "must have" function.
You stay connected even while doing activities
When you are running, cycling, swimming or any other form of exercise, you might want to peek into your messages, calls or notifications. Sometimes it is not possible for you to keep a phone with you in those activities, and it's just awkward and annoying when you do anyway. Here is where a smartwatch becomes really useful.
It keeps you connected longer than your phone
You might be thinking from the very first time, why would you need a smartwatch when you already have a good smartphone?
Shake it out of your mind because some smartwatches have such powerful batteries that a phone just can't compare.
Your entertainment is on your wrist
Suppose you are walking and all on a sudden you want to watch a YouTube video that your friend keeps talking about. You are just one or two clicks away from playing YouTube on your watch.
Reminds You to Stop and Breathe
Let's face it. Life is stressful, and it's super easy to get caught up in the hustle and bustle of everything we need to get done in a 24-hour period.
When we are constantly running around, dealing with things like traffic, unforgiving bosses, scheduling things for other people in our life and trying to exercise, eating healthy, and get enough sleep, sometimes we forget to simply stop and breathe.
Navigation
Holding up your phone to check directions when navigating can be a tad cumbersome. Navigating with a phone while cycling or driving divides the driver's attention, and it's often illegal in many places. Smartwatches eliminate the danger of divided attention; they deliver the direction you are looking for right on your wrist.
Make and Receive Calls
With your smartwatch connected to a phone, you can use the smartwatch to make and receive calls on your smartphone. Users can also make calls without the smartwatch being connected to a phone. Some models of smartwatches have a sim card port that allows users to make and receive calls with their smartwatches only.
Fall Detection and Emergency Call
Smartwatches now have a feature that detects falls through a drop sensor. When the drop sensor detects a fall, it immediately sounds an alarm to the user. If the user fails to respond to the alarm within a short time, the smartwatch automatically makes an emergency call for help. This feature can be particularly useful for older people that are often more susceptible to falls.
Contactless Payment
Payments via Apple Pay, Android Pay, Garmin Pay, Samsung Pay or Fitbit Pay lets you pay for purchases with your watch. These mobile payment systems work with contactless payment readers so that you can pay without your card or phone. Basically, it should work at any store offering contactless payment.
Health-related features and Benefits
Smartwatches often have integrated all the functionality we used to have on our fitness trackers. Health-related benefits include tracking your heart rate, sleep quality and time, activity and overall fitness level.
Hours Slept and Sleep Quality
Sleep measurement is possible with the Accelerometer, Gyro, and Heart Rate monitors on the smartwatch. Different manufacturers use different algorithms for tracking sleep time and quality with different levels of success. The better ones are in my experience able to very well know when I have fallen asleep and woken up.
Heart Rate measurement
Smartwatches nowadays quite often come with heart rate monitors that can measure your heart rate from the wrist. Measuring your heart rate has many benefits. It allows you to track your heart rate during exercises allowing you to keep in a zone that's increasing your fitness level. Another benefit is that heart rate measurement connected to Artificial Intelligence might be able to accurately detect specific types of abnormal heart rhythms
Blood Pressure
measurement is an entirely new feature for smartwatches. It first came available on the Omron HeartGuide Smartwatch in January 2019. Omron's oscillometric blood pressure measurement smartwatch also received FDA clearance.
Calories
Burnt calories estimation is quite common on smartwatches and it's calculated based on your activity like steps and logged activity like running and the measurements during those activities.
Event and Calendar Alerts
Whether you're living a busy life or just need a little help remembering your next appointment, event and calendar alerts on your smartphone can be a valuable tool. Smartwatches make the process even simpler. Put the date and time in your calendar, set your reminders, and stop worrying about forgetting.
ECG Tracking Feature
ECG tracking is the most advanced cardiac health tracking feature available in a smartwatch. Even though a smartwatch with ECG cannot be considered medical equipment, it can detect irregular heart rate, irregular heart rhythm, and Atrial fibrillation.
Stress Tracking
Stress is a common issue faced by most people around the globe because of the modern lifestyle. A smartwatch can track your stress level by monitoring various factors such as heart rate, blood oxygen level, respiratory rate, etc.
If your smartwatch alerts you of stress, you should go for a short walk or have a cup of coffee.
Female Health Tracking
Many smartwatches and fitness trackers come with female health tracking features. The female health tracking feature allows you to better understand your menstrual cycle and other bodily changes.
Swim Tracking
If you are a swimming enthusiast or professional swimmer, then a swimming smartwatch can give you an in-depth insight into your various swim metrics such as speed, distance traveled, number of laps, heart rate, swim style, and much more. With these details, you can improve your performance in the pool or open water.
……………………………………………………………………………………………………………………