Virus and malwares are always a threat to our laptop and desktop computers especially in today's time where most of the time we are online.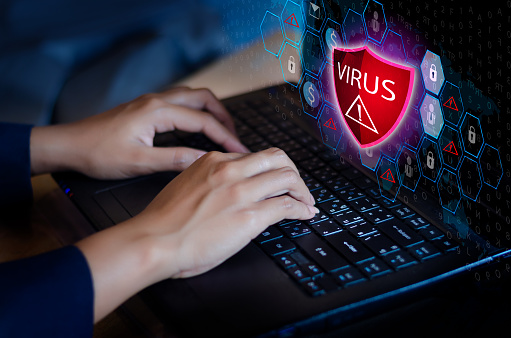 Now a days we always hear news about cyber and malware attack so it is very critical to keep our computers virus free to avoid any possible data threat. Below are the steps to remove any virus and malware from your computer.
If you your computer is affected by virus or malware then it may not function normally. While opening internet browser it may not work or will keep opening a small window which ask you to pay some money to open internet. It may also keep flashing same virus message and won't allow you do anything.
You may see a black screen which is non responsive as well or your internet may keep redirecting to multiple site frequently and will not load your desired site, these are the symptoms that your computer is affected by virus.
Boot in Safe Mode and delete Temp files
If the virus or malware is not allowing your PC to boot normally or shows a black screen then you need to boot your windows PC in Safe Mode. Once you are in same mode then go Run (win key + r) then type %temp%
Now you need to delete all these temp files by using key shift + delete
Now Run please type C:\Windows\Prefetch
And delete all files again with shift+delete
Again same way in Run box type C:\windows\temp
And delete all files by pressing shift+delete
Now open drive C and on the top look for view
Then click view and then click Folder Option
Now click View and from below options check >Show hidden files, folders, and drives > uncheck Hide empty drives > uncheck Hide extensions for known files types > click Apply and OK
Now click ProgramData
Once you are in Program Date folder then look for any suspicious files for folder which you never installed or not aware or which getting modified frequently and delete them.
Now go to drive C > users > your user name > AppData
Open AppData and you see below folders > Local, Locallow and Roaming
Open folder > Local and look for Temp folder
Now open Temp folder and delete all files and folders by pressing shift+delete. This is the place where viruses are installed by default most of the time. The malware / virus file will be an .exe file which gets activate each time you reboot the computer.
You can also check in Locallow folder and delete any files and folder which is suspicious
Same way check in folder Roaming > delete any folders and files which are suspicious
After performing the above steps virus / malware will be removed. However we need to try below steps to remove the malware completely.
Go to Run > regedit
Open registry and click File > Export. This option is to save the current registry settings and restore it later in case some thing goes wrong while removing virus from registry
Now go to HKEY_LOCAL_MACHINE > SOFTWARE and delete any suspicious folder which you never installed or not familiar with. Also any folder which has some special character name or or which is of no use.
Also go to Programs and Feature and uninstall any application which is of no use.
You can uninstall any old antivirus program which is expired
We should not have two antivirus programs installed in a PC as non of them will work due to conflict.
It is advisable to install only one antivirus program in a PC
You can go to Task Manager > Processes > and check which application is taking highest memory and CPU, you can right click on that application > End task
Now you can reboot your PC normally and check if everything is normal
You can also delete the cookies of your browser frequently
All the above steps will not only remove the virus / malware but also improve the PC performance.
Related post – How to Backup your mobile data?
---