Since today we are capturing and saving most of the data in our mobile phones we very often feel the need to transfer them quickly to our laptops as well.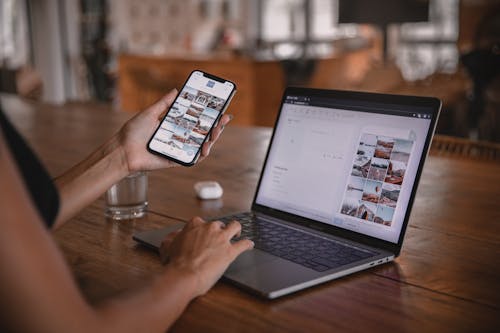 Transferring files between devices is not a big deal normally however sometimes it can be hard if you run out of storage space in your portable devices, or don't have a USB flash drive or micro USB to USB adapter. The it might be difficult to move the data from an android phone to an iPhone.
Usually we transfer our files, photos, music files and videos from our mobiles to laptops or PCs via Bluetooth and connecting USB cables but now we have many Apps which can help us to transfer all our important files instantly. Lets check some of the mostly used Apps to transfer our favorite files from our smart phones to laptops and pcs wirelessly and quickly.
|Feem
Make Professional Videos in 5 Minutes! It's Easy and Free
XShare
XShare allow you to transfer any type of files instantly without any mobile data consumption. It also transfers all the images, photos, videos etc securely and privately. As soon as you install this app it reads out the phone storage and tell you used and remaining storage space along with all the application and files stored. It shows you all the document with file extension as well.
You can share and receive all the files, apps, images, videos, music to other devices. It gives the root level access to your mobile phone in grid folders. You can track all the sent and receive files by history option as well. While you try to share your files to other device it opens your phone GPS and generates a QR code to share with other device. Once you scan the code file are ready to transfer.
Feem
Feem version 4 can be used to share files from a smartphone to other devices in the nearby. It will automatically detect and lists all the devices which have same app installed and connected to the same wireless network. You can also switch on Wi-Fi Direct to turn your device into a Wi-Fi hotspot to transfer files. Both the methods do not required internet access and files are exchanged over a secure connection which is encrypted as well. This is faster, more efficient and secure than Bluetooth as well.
Feem also has a chat feature so that you can exchange chat messages while transferring the files once the connection is established and data transfer is in progress. All these missives are deleted automatically after 24 hours. It also makes the transfer process faster since devices are connected on Wi-Fi and do not rely on internet speed or mobile network. Feem will resume the session as well in case if a device gets disconnected.
This app is also allows you transfer files between PCs with OS like windows, Mac and Linux and smartphone using android and iOS. Now the iOS can transfer images, videos and documents however an android would let you share the apps installed in your as well in APK files so that receiver does not need to download the shared app again.
Take a File
Take a file is similar to NitroShare but makes the file available to multiple people outside your home network. It is a browser-based service that uses the peer-to-peer (P2P) files sharing concept to share files over the internet in real time. When you choose Live Transfer mode you will be able to share a file of any size and type. You just have to share the web link with the recipient.
A real-time transfer starts when a receiver clicks on the web link. This takes place via the web browser, so the only drawback is that you need to keep your computer on and and browser tab open till the file transfer is complete. Take a File shows the number of users that are downloading your file along with a progress bar of the percentage and transfer rate for reach connection.
NitroShare
NitroShare lets you share files between PCs running different operating systems on your home network. This is useful when you do not have a high capacity USB flash drive or need to transfer large files. Normally, you would have to follow some steps to share a folder on the network so that other computers can access its contents. But with NitroShare, you only need to install the software. It quickly discovers devices on the local network that also have this tool installed.
The process is simple and transfers are seamless. Transfer speeds are however, dependent on the quality of the network connection since it depends on it. But it also come with its own hassle free file sharing.
Send Anywhere
This application requires an internet connection but it is for times when you want to transfer files without emailing or signing up for a cloud storage service. The other advantage is you do not have to deal with restrictions on file size and type either. You can upload any file, a contact, photo, audio, apps (APK file), video or an entire folder of any size.
Before the file is sent, Send Anywhere creates a six-digit code. Recipients can get file by entering this access code via the app or the website. Data is sent directly and securely over an encrypted connection to the receiver. Apart from the code it also has the option to share a link via email for deferred downloads. This requires registration and has a 10 file size limit. Here, Send Anywhere stores the files temporarily for up to 24 hours. It supports Android, iOS and Web.
Also learn about :
How to Scan, Copy and Print Documents from Mobile Phone?
5 Best Free Professional Video Editing Software with great Features
………………………………………………………..